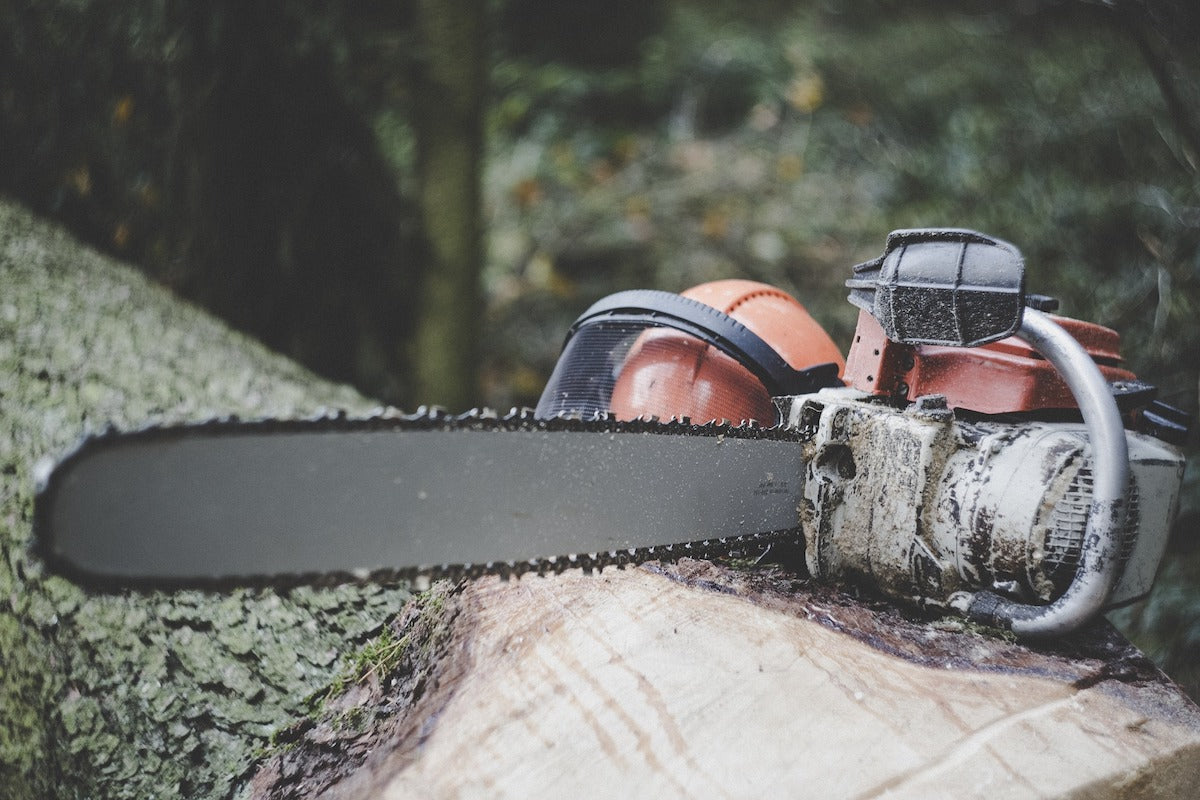 Why Loggers, Arborists & Tree Surgeons Need Chainsaw Gloves
Using a chainsaw can seem like no big deal if you're used to it, but serious chainsaw injuries can and do happen to even the most experienced chainsaw operators, including loggers, arborists, tree surgeons, and other experts.
According to the CDC, hospital emergency departments treat roughly 36,000 people each year for chainsaw injuries, with many of those being hand injuries.
Basic chainsaw safety precautions along with the right personal protective equipment (PPE) can prevent painful and debilitating injuries. 
Logging Is Dangerous Work
Actually, it's the single most dangerous occupation in the US by many measures, and according to the Occupational Safety and Health Administration (OSHA), that's largely because of the fact that these professionals need to use hazardous tools like chainsaws. 
On top of that, dangerous environments produce additional hazards that make chainsaws more dangerous than they would otherwise be, even for experienced logging industry professionals who know how to use them safely. These additional hazards include:
Extremely heavy trees and logs that may fall, slide, or roll
Uneven terrain
Bad weather, including rain and wind
Extreme cold
Remote worksites, where emergency care is not always immediately available
In addition to sudden traumatic injuries, long-term use of a chainsaw (10+ years, for example) can cause more persistent (but equally debilitating) problems like hand-arm vibration syndrome (HAVS) and carpal tunnel syndrome.
PPE for Chainsaw Safety
Wearing the right PPE is one of the most important steps that loggers and arborists can take to protect themselves from injury. But what types of protective clothing and equipment should people who work with chainsaws wear? OSHA recommends a head-to-toe approach:
Head protection, like a hard hat
Hearing protection that reduces noise exposure to 90 decibels or less
Protection for the eyes and face, including safety glasses
Work pants, chaps, or other sufficient protection for legs 
Protective footwear
Work gloves
The majority of chainsaw injuries happen to the left hand and arm area, because of the way chainsaws are held. (The second most common injury location is the left leg.) So even though injuries can happen anywhere, choosing the right PPE for your left hand is especially crucial.
Important Safety Features for Chainsaw Gloves
What kind of gloves should you be looking for? Over the years, various organizations have set a variety of safety standards for chainsaw gloves — from the famous European Standard EN 381-7 to the updated performance requirements for chainsaw gloves that the International Organization for Standardization (ISO) released in 2018.
In addition to looking at safety standards, a common-sense risk assessment of your particular situation and work conditions is essential. That said, here are a few features that a good pair of chainsaw gloves should have:
Cut protection: Look at standardized cut resistance ratings like the ANSI/ISEA 105 scale and the EN 388 scale. Here's a post explaining each scale and how to interpret the level of cut resistance offered by a given glove.
Abrasion and impact resistance: Just make sure your gloves aren't so bulky that you have trouble comfortably moving your hands and holding the chainsaw. Look for gloves with impact protection on the back of the knuckles.
Vibration absorption: Anyone who regularly uses chainsaws or other vibrating tools should look for gloves with materials that absorb vibration and reliable grip control. This helps ward off chronic conditions like HAVS and carpal tunnel, which can result from long-term, frequent use of vibrating tools and equipment.
If you often work with your hands in cold environments, make sure your gloves provide enough warmth to stop your hands from getting cold. Cold hands become stiff, weak, and hard to work with. Plus, keeping your hands warm also helps prevent HAVS. Regular gloves with padding may be enough for most people, but if you work in extreme cold, you might need more heavy-duty winter gloves.
Chainsaw Glove Recommendations
Cestus Armored Gloves offers several anti-vibration gloves that feature our Cestus-specific Hexagonal Memory Gel® to dampen vibration. Here are three options that are specially designed to be effective for chainsaw operators, including loggers, arborists, and tree surgeons:
Check out our good friends the Local Tree Experts to get help & advice on all types of tree services.  https://www.thelocaltreeexpert.com/ca/santa-ana/

Looking for more information about choosing chainsaw gloves? We're here to answer all your questions about our products as well as general questions about features, fit, and safety. Contact us today.