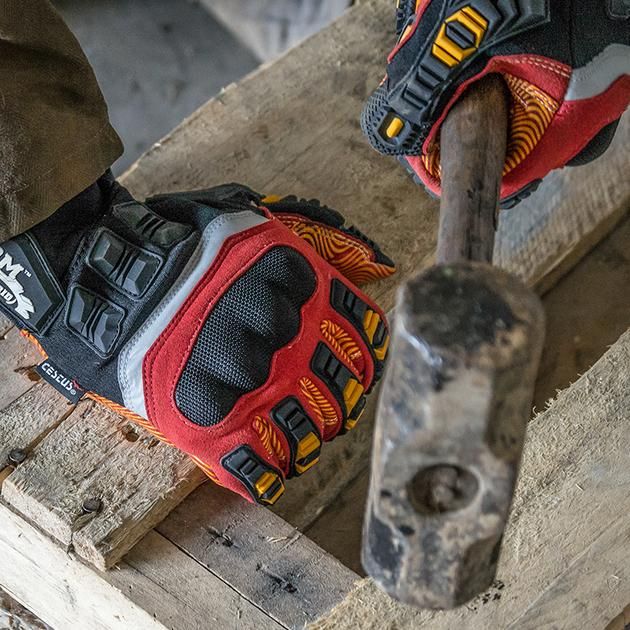 Best Grip Material for Gloves: What Makes Gloves Grippy?
One of the most important features to look for in a pair of high-quality work gloves is grip. Regardless of the task at hand, proper grip control is essential to help you get the job done efficiently and effectively and to help protect against hand-related injuries.
Depending on the required level of control, comfort, dexterity, and durability, a variety of materials and coatings can be used to add grip to gloves. You'll also want to consider the environment you'll be working in and what type of equipment you'll be using when selecting the right type of gloves for the job.
Synthetic Leather
Leather gloves are known for their sturdiness and comfort, which is probably why they've been around for so long. Not only do they provide protection against tears and abrasions, but they're also soft and breathable. When it comes to gripping tools, machinery, and equipment in cold or wet conditions, however, synthetic leather outperforms natural leather, while still offering a comparable level of protection.
Because synthetic leather is more lightweight and flexible than regular leather, it provides superior dexterity and grip in wet, dry, and even oily conditions. Our Deep Grip Winter gloves are equipped with a Skid-X™ grip, one-piece palm that's double-stitched onto high-quality synthetic leather. If you're looking for heavy-duty gripping power, these are the gloves for you.
Silicone
Silicone is widely used for it's slip-resistant properties. From bicycle handlebars and self-fusing tape to baking mitts and shoe covers, its applications as a grippy, non-slip material are nearly endless. It should come as no surprise, then, that the material is often used to provide excellent grip control in work gloves.
Our Turbinator glove, for example, was originally designed with wind turbine maintenance technicians in mind. It goes without saying that grip is a top priority when you're climbing hundreds of feet into the air to inspect a wind turbine tower. Windproof, lightweight, and breathable, the Turbinator's silicone-covered Hexagonal Memory Gel provides excellent grip control and vibration absorption.
PVC
Polyvinyl Chloride (PVC) is a synthetic thermoplastic polymer composed of vinyl chloride. It's one of the more common coatings used in work gloves designed for grip. PVC protects against chemicals, oils, greases, and other substances and offers high-quality grip control. It also provides some abrasion and cut resistance.
Cestus' C-13 gloves are cut-resistant and insulated. They're ideal for keeping your hands warm and protected in cold or harsh weather, and they feature a PVC-coated palm, which extends around the fingers and knuckles to ensure a secure grip. These gloves are also outfitted with non-coated, form-fitting backs and cuffs to ensure the gloves are snug, breathable, and keep out debris.
Nitrile
Nitrile is a chemical- and puncture-resistant compound that offers superior grip when used to make gloves. It's also resistant to grease, oil, and water. Nitrile is originally sourced from rubber trees, and then processed into latex rubber. This latex rubber is then reprocessed into the nitrile compound material, removing all latex proteins in the process.
Gloves that feature nitrile remove the risk of the wearer suffering from the unpleasant symptoms associated with latex allergies, without sacrificing flexibility or grip. The C-10 gloves from Cestus Armored Gloves are designed with a nitrile-dipped palm to offer maximum dexterity and unmatched grip control. The seamless design and resistance to tears and punctures makes these gloves durable and tough, while the non-coated back and cuff make them comfortable and breathable.
Patterns and Texture
When it comes to grip, patterns and textures can play an important role in addition to materials. Strategically placed stitching, raised dot patterns, textures, and grooves can all contribute a great deal to the overall grip of a glove. You probably wouldn't buy a pair of hiking boots with a smooth sole, and the same principle should apply to gloves when grip is your top priority.
The Cestus Tow Grip 201 is the perfect example of a glove that uses stitching and texture to provide added grip control. Its oil-resistant, dual-layer Zip Grip palm and Kevlar® double stitching make it the perfect non-slip glove for working with slick or oily surfaces.
Gloves For Any Job
If you work in an environment that requires you to be in slippery, wet, or oily conditions, or relies on your ability to operate heavy or complicated machinery, you need work gloves that offer dependable, high-quality grip control without sacrificing ease of movement. 
Cestus Armored Gloves are designed to stand up to any task. Whether you're working in extreme weather conditions, operating heavy or dangerous equipment, or simply need tough gloves with good grip to work in your backyard, we have gloves designed to meet your needs. 
Shop our catalog and choose the right gloves for your purposes. Get in touch online or by phone at (503) 894-8549 with any questions or inquiries.