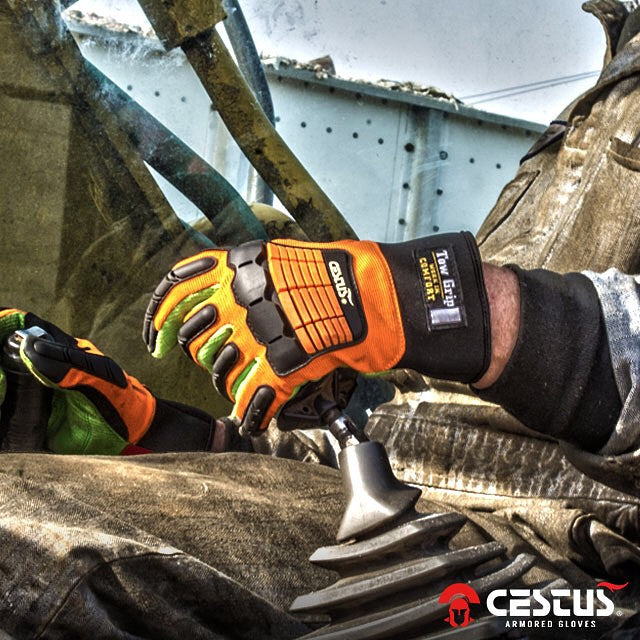 Promoting Hand Safety in the Workplace
Did you know that 27% of all workplace injuries are hand and finger injuries? As you might expect, that percentage is even higher in heavy industry. In the oil and gas industry, it's 43%, according to a recent report.
These injuries aren't just painful and debilitating for employees, but they're also expensive for companies. A single hand injury can cost between $50,000 and $250,000 in losses.
These numbers don't have to stay the same, though. Companies that implement good safety procedures and encourage proper hand protection can help their employees prevent hand and finger injuries at work.
Here's what you can do to promote hand safety in your workplace.
1. Minimize Hazards
Eliminating all hazards is probably impossible, but they can usually be minimized. OSHA (Occupational Safety and Health Administration) has recommendations for hazard prevention and control with specific action items to follow.
In some cases, equipment may need to be upgraded or re-engineered, since outdated equipment is often heavier and less safe.
One option is to bring in a safety expert to look at all the machinery, tools, and safety equipment you're currently using. You may even consider talking to an ergonomics professional who specializes in reducing muscle fatigue and work-related musculoskeletal disorders.
2. Safety Procedures
Check to see if your list of safe work practices is comprehensive and up to date. Make sure all workers have access to it and are encouraged to follow it.
What could be improved? Are signs posted everywhere they're needed? Are there new procedures you could implement to make your workplace even safer? For example, a lockout/tagout program helps protect employees' hands during repair and maintenance.
One of the biggest ways to promote hand safety in the workplace is to make sure everyone has a high-quality pair of work gloves that are suited to their job. Gloves need to be well made, breathable, and not overly bulky so that employees will be comfortable keeping them on at all times. When gloves are uncomfortable, employees are less likely to wear them all day (more about gloves later).
It's also important to continually review and, if necessary, revise your safety program. One of the best ways to make sure safety procedures are working and identify areas for improvement is to regularly check in with supervisors.
3.Safety Training
Training professionals recommend making your training sessions memorable so that people will really absorb, retain, and use the information.
Consider making training an ongoing practice that gets refreshed and revised -- especially whenever there's a change in procedures, tools, or equipment. Also make sure everyone gets safety training, not just new employees.
In fact, safety training is especially important for frontline supervisors who play an integral role in building a culture of hand safety for everyone. For example, supervisors can set a good example by wearing hand protection at all times.
4. Recognizing Good Safety Behavior
In the past, EHS Today has reported on the ineffectiveness of most safety incentive programs. There are many reasons why they often fail to work as expected, but the biggest problem is that the reward starts to become the biggest focus, rather than safety itself. Recognizing safe behavior and encouraging personal responsibility tends to be more effective than monetary rewards.
Encouraging personal responsibility means encouraging all employees to give feedback and to come forward if they feel something isn't safe. Too many company problems occur (safety-related and otherwise) because employees don't speak up and talk to their supervisors.
5. Hand Protection
Even if you do everything right, accidents can still happen. Plus, even without accidents, operating heavy machinery causes wear and tear on hands and wrists over time, which can lead to chronic injuries. That's why personal protective equipment (PPE) is so important, and when it comes to hand safety, high-quality gloves are a must.
Work gloves need to be comfortable and well-made, and they need to have the right materials and features for the specific work they're used for. For example:
Vibration absorption technology

and

impact protection

help prevent hand fatigue and injury when working with impact and power tools.

Some jobs require a specific type of glove (e.g. welders need special

welding gloves

).

Anyone working with wet, oily, or slippery surfaces needs reliable

grip control

.

Abrasion resistance

and

cut-resistant palms

are must-have features for most heavy industry jobs.

People working outdoors in cold weather will need a good pair of

winter work gloves

.

High-visibility

, reflective materials are great for low-light work sites.
At Cestus, we offer a wide array of high-quality gloves, including everything from general work gloves to industry-specific hand protection equipped with the latest technology. All of them are carefully designed with hand safety and comfort in mind.
If you have questions about features, materials, fit, and more, we can help. Contact us for more information!