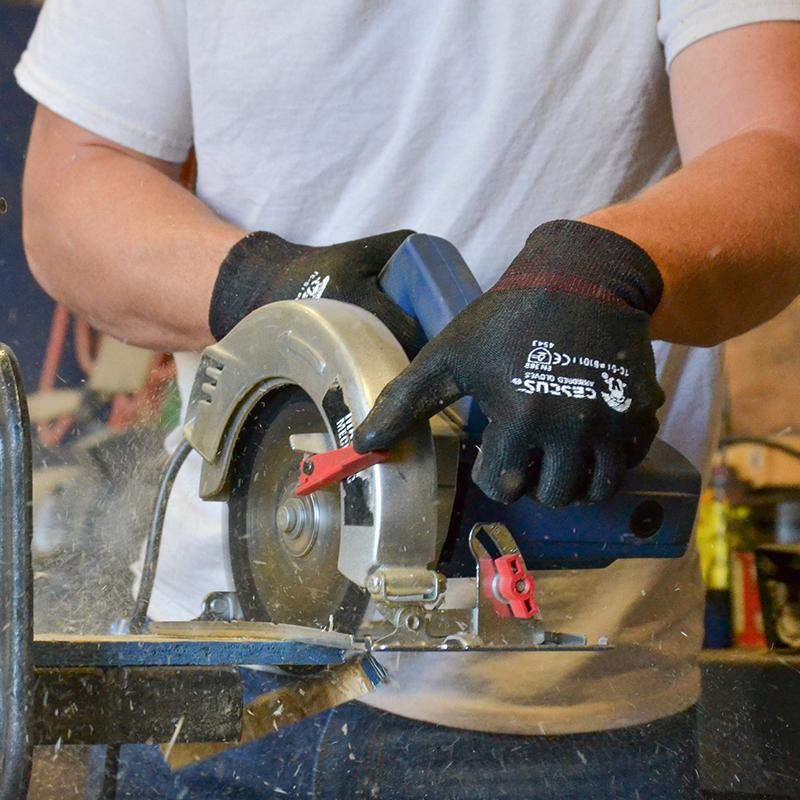 5 Tips for Choosing the Best Woodworking & Carpentry Gloves
Whether you're a carpenter by trade or a woodworking hobbyist, your work gloves need to be designed for the wide variety of tasks you perform. The best gloves to use in the shop offer a combination of dexterity, overall safety, cut-resistance, comfort, and durability.
Like all work gloves, carpentry and woodworking gloves should meet the highest standards of performance and ease-of-use. Your gloves should both protect your hands and make your work easier. Keep reading for 5 tips on what features to look for and how to choose the perfect pair of carpentry gloves.
Features of Woodworking Gloves
In simple terms, woodworking gloves should help carpenters and woodworkers perform all their tasks safely, reliably, and easily. While some gloves may be designed exclusively for woodworking, a pair of standard work gloves that include the right protective and comfort features and flexible materials should do the trick.
Here are some standard features of carpentry gloves:
Flexibility and dexterity
Reinforced palm stitching
Abrasion resistance
Breathability and comfort
Safety or short glove cuffs
Adequate grip control
Cut and puncture resistance
Should you wear gloves while woodworking?
Gloves are absolutely essential in the shop. Some woodworkers prefer not to wear gloves while using table saws, due to concerns about getting cuffs or finger padding caught in the saw. Properly sized gloves with a snug wrist style help mitigate this risk, but even if you choose not to wear gloves while operating table saws and other heavy equipment, it's important to wear gloves during other tasks to protect your hands from solvents, rough wood, and cuts and abrasions. 
Tip 1. Choose Strong, yet Flexible Materials 
Woodworking requires expert precision, so you need your gloves to be flexible and lightweight. You also need tough, durable material to protect your hands from the risk of injury. When choosing gloves for woodworking and carpentry, choose from both natural and synthetic glove materials like pure-grain cowhide, nitrile, and high-performance polyethylene, which offer protection from abrasions and punctures without sacrificing your ability to work on tasks that require a high level of precision. Gloves that have Kevlar reinforcements and boast 360° hand protection are also important when you're handling sharp tools and hardware.
Related: Glove Materials Explained: Which Type is Right for You?
Tip 2. Select the Right Size
With all types of work gloves, proper sizing is an important factor for both comfort and efficacy. Woodworking and carpentry require good grip, precision, and dexterity. You also need to ensure your gloves don't get caught in your tools or machinery, so it's especially important that they fit snugly and correctly. 
Choosing gloves in the right size is essential, and selecting the perfect size starts with knowing your hand size. Consult our glove sizing guide to learn how to accurately measure your hands and follow our sizing chart to ensure you choose the right size.
Related: Glove Sizing Guide: How to Measure Hand Size
Tip 3. Prioritize Comfort & Breathability
The risk of injury is higher if your hands are uncomfortable. When you choose comfortable work gloves, you're more effective at what you do and your risk of hand injury is significantly reduced. 
Choosing a pair of comfortable gloves for woodworking and carpentry depends on your work environment. Especially in hot and humid environments, you'll want to select gloves that breathe to avoid perspiration and overheating. On the other hand, if you work outside year-round, you may want to invest in a pair of cold-weather work gloves. Whatever conditions you work in, comfort should always be a consideration.
Related: Stop Overheating! Cool Gloves for Warm Weather
Related: Buyer's Guide: Choosing Winter Work Gloves
Tip 4. Don't Sacrifice Dexterity
Being able to easily move your hands and fingers is essential in carpentry. You need to be able to comfortably switch back and forth between tasks that require a high level of hand protection, such as using power tools, and tasks that require precision and dexterity, such as measuring and writing. Your work gloves should be designed to move effortlessly with your hands and fingers. 
Related: The Best Work Gloves for Dexterity
Tip 5. Look for High Cut Resistance
Each year, cuts, lacerations, and punctures are among the most common types of workplace injury, according to the U.S. Bureau of Labor Statistics. Woodworking requires the continuous handling of sharp objects and tools. Adequate cut resistance is the single most important feature you should look for when choosing gloves for carpentry and woodworking.
What cut-resistance level is best for carpentry and woodworking?
Organizations in the U.S. and Europe have solidified industry standards that outline specific cut-resistance levels for gloves. For more information on how these standards work, read our article explaining cut-resistant glove levels and how to choose the right level. Different types of woodworking may require different levels of cut-resistance. Understanding these standards can help you determine which gloves are right for your specific purposes and tasks.
Here are some basic rules to follow:
When working with power tools, drills, or sharpening tools, you need the highest level of protection; look for a cut-resistance level of A5 or higher (U.S.) or E-to-F level (Europe).
If you're working on intricate or curved surfaces and you require a balance of cut-resistance and dexterity, look for mid-level cut-resistance — A3-to-A5 (U.S.) or C-to-E (Europe).
Related: Cut Resistant Glove Levels Explained and Which Level Is Right for You
The Best Gloves for Woodworking
Cestus is dedicated to details. We make work gloves for a wide range of industries, designed for precision, safety, and execution. Below are our top woodworking and carpentry glove recommendations to meet your needs.
Brutus MD #3408
Designed to fit snugly and securely around your hands, the Cestus Brutus MD #3408 gloves are flexible and breathable while providing superior cut resistance and grip control. With added impact protection that doesn't add bulk, your whole hand will be protected from wrist to fingertips.
C-40
If you're looking for lightweight and flexible gloves that won't get in your way but still offer quality cut protection, the C-40 gloves by Cestus may be the perfect solution. Made from ultra-thin, highly cut-resistant fibers, these gloves will offer 360° protection and targeted grip control without adding bulk or excessive weight.
Brutus LD #3308
One of the most heavy-duty gloves in the Cestus line of cut-resistant gloves, the Brutus LD #3308 gloves have a seamless high-performance polyethylene shell to surround your whole hand with cut level 6 protection, without reducing dexterity. The nitrile palm and finger coating is also oil-resistant and offers increased grip control.
Professional Work Gloves to Meet Any Challenge
When you have work to do, you shouldn't have to settle for less. You need protective, effective gloves that don't get in your way. In addition to rigorous lab testing, we test our gloves in real-life environments to make sure they do their job under real-world conditions. 
Browse our collections by series, industry, or feature to find gloves designed for targeted purposes that deliver on quality, comfort, dexterity, performance, and safety. Feel free to contact us online or by phone at (503) 894-8549 with any questions.