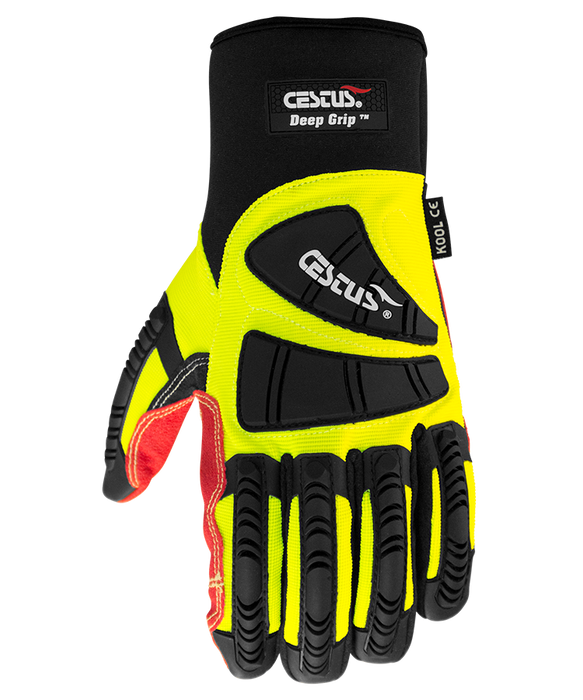 Deep Grip Kool #3056
Original price
$44.95 USD
-
Original price
$44.95 USD
Purchasing for Work?
Contact us to learn about our glove trial program and business pricing.
Deep Grip® gloves were designed to protect and add strong grip control for hands-on hazardous work sites. Flexible Thermoplastic Rubber (TPR) impact shields on the back of the glove add impact protection that bends with the fingers and offers continuous protection from finger tips to wrist. The palm features an oil-resistant, one-piece Skid-X™ Grip that is double stitched on with Kevlar®thread for strong grip control and durability. The neoprene long cuff covers the wrist while allowing the user to pull out of the glove if caught in a pinch or machinery.
FEATURES
• Flexible TPR (Thermo Plastic Rubber) - Shields against
impact injuries
• Skid-X Grip™ - Adds oil, water and petrochemical resistance and
heightens grip control in wet, oily, or dry environments
• One-Piece Palm with Kevlar™ Stitching - Adds abrasion resistance,
durability and longevity in high-wear areas
• Long-Cuff Design - Allows for "tear-away" ability with machinery
• Thin Design - Fewer layers adds comfort for use in hot weather

USES
• Search & Rescue
• Extraction
• Heavy Construction
• Barrel & Drum Handling
• Bat Chain Pulling
• Demolition
• Rigging
• Mining

Technical Specification (PDF): Deep Grip Kool #3056